Horrifying 1906 Illustrations of H.G. Wells' War of the Worlds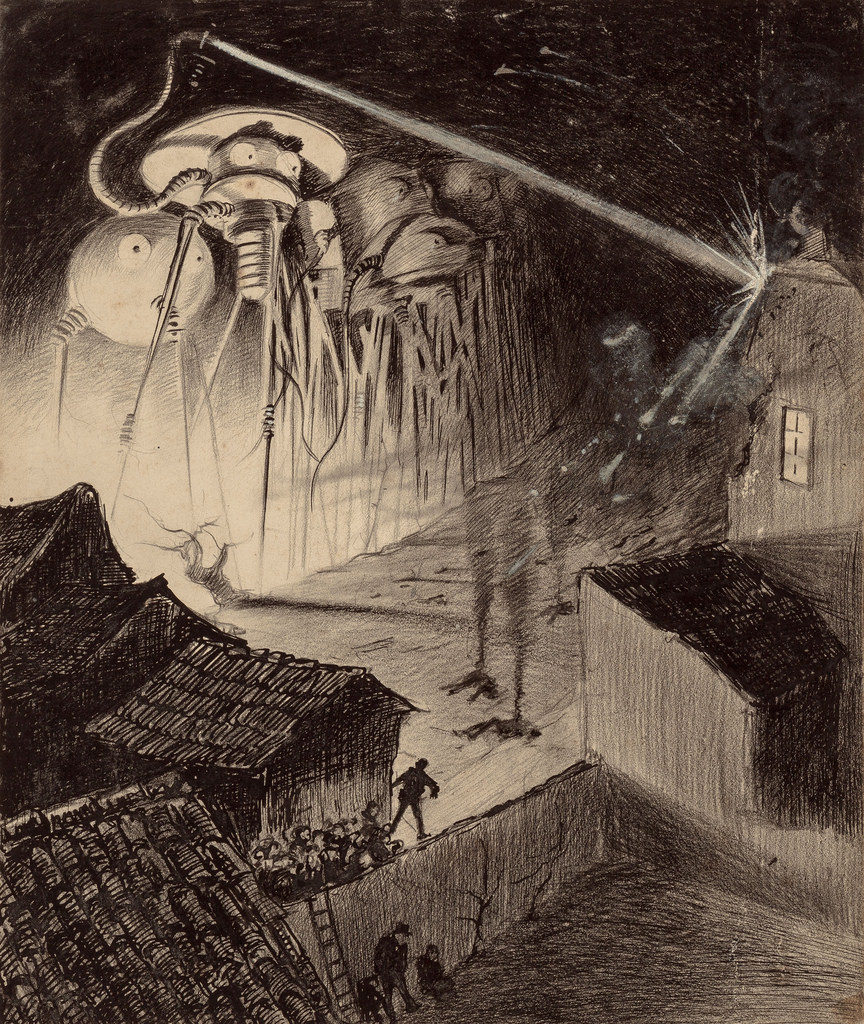 H.G. Wells' War of the Worlds has terrified and fascinated readers and writers for decades since its 1898 publication and has inspired numerous adaptations. The most notorious use of Wells' book was by Orson Welles, whom the author called "my little namesake," and whose 1938 War of the Worlds Halloween radio play caused public alarm (though not actually a national panic). After the occurrence, reports Phil Klass, the actor remarked, "I'm extremely surprised to learn that a story, which has become familiar to children through the medium of comic strips and many succeeding and adventure stories, should have had such an immediate and profound effect upon radio listeners."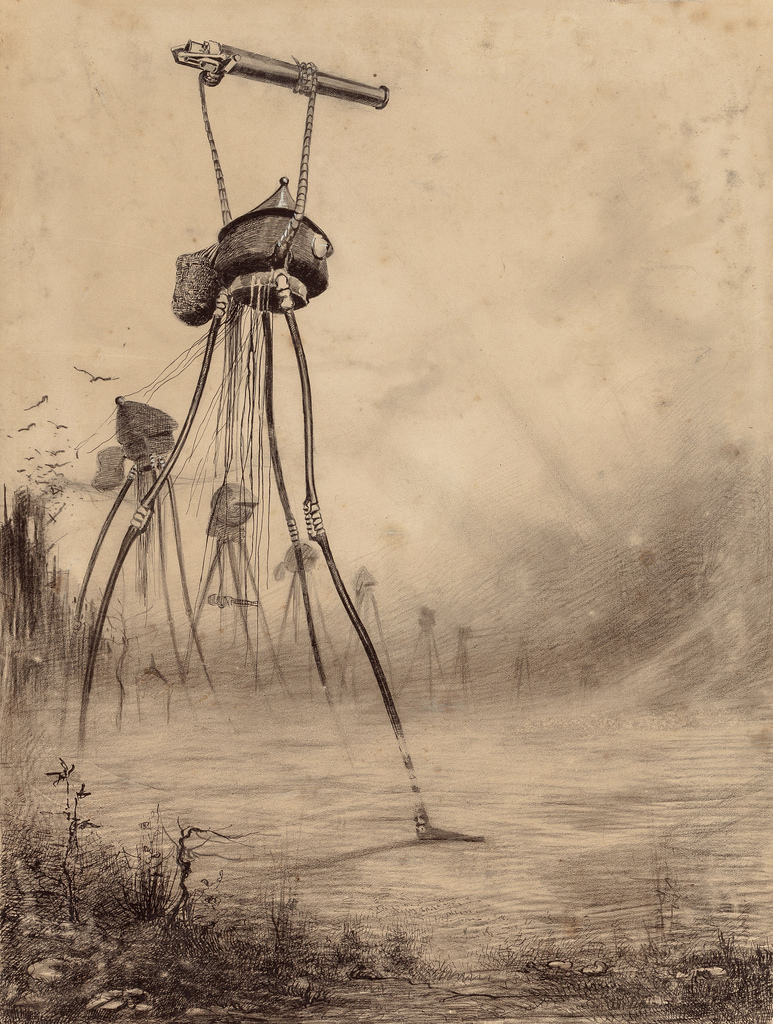 Surely Welles knew that is precisely why the broadcast had the effect it did, especially in such an anxious pre-war climate. The 1898 novel also startled its first readers with its verisimilitude, playing on a late Victorian sense of apocalyptic doom as the turn-of-the-century approached.
But what contemporary circumstances eight years later, we might wonder, fueled the imagination of Henrique Alvim Corrêa, whose 1906 illustrations of the novel you can see here? Wells himself approved of these incredible drawings, praising them before their publication and saying, "Alvim Corrêa did more for my work with his brush than I with my pen."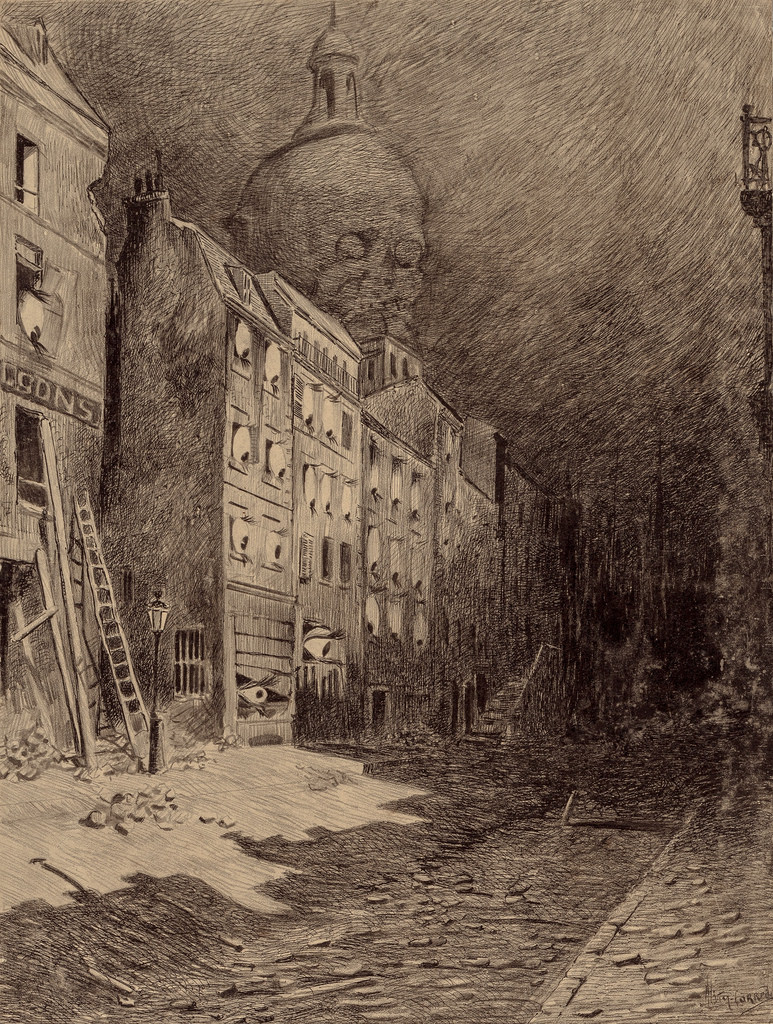 Indeed they capture the novel's uncanny dread. Martian tripods loom, ghastly and cartoonish, above blasted realist landscapes and scenes of panic. In one illustration, a grotesque, tentacled Martian ravishes a nude woman. In a surrealist drawing of an abandoned London above, eyes protrude from the buildings, and a skeletal head appears above them. The alien technology often appears clumsy and unsophisticated, which contributes to the generally terrifying absurdity that emanates from these finely rendered plates.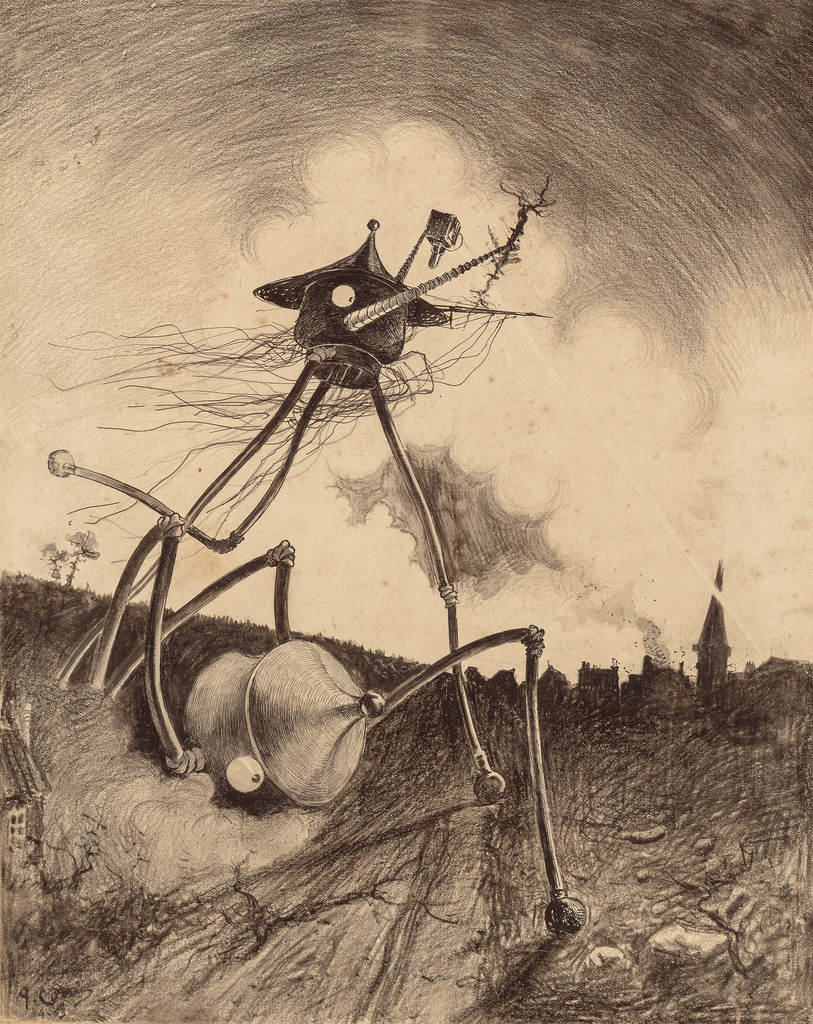 Alvim Corrêa was a Brazilian artist living in Brussels and struggling for recognition in the European art world. His break seemed to come when the War of the Worlds illustrations were printed in a large-format, limited French edition of the book, with each of the 500 copies signed by the artist himself.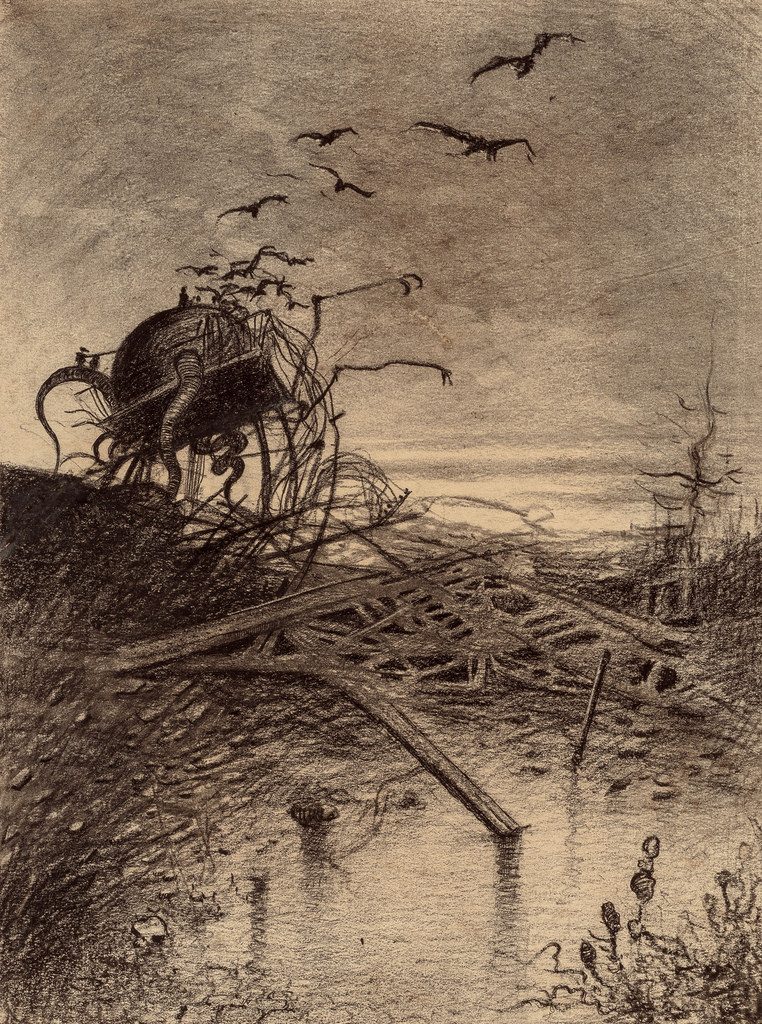 Unfortunately, Corrêa's tuberculosis killed him four years later. His War of the Worlds drawings did not bring him fame in his lifetime or after, but his work has been cherished since by a devoted cult following. The original prints you see here remained with the artist's family until a sale of 31 of them in 1990. (They went up for sale again recently, it seems.) You can see many more, as well as scans from the book and a poster announcing the publication, at Monster Brains and the British Library site.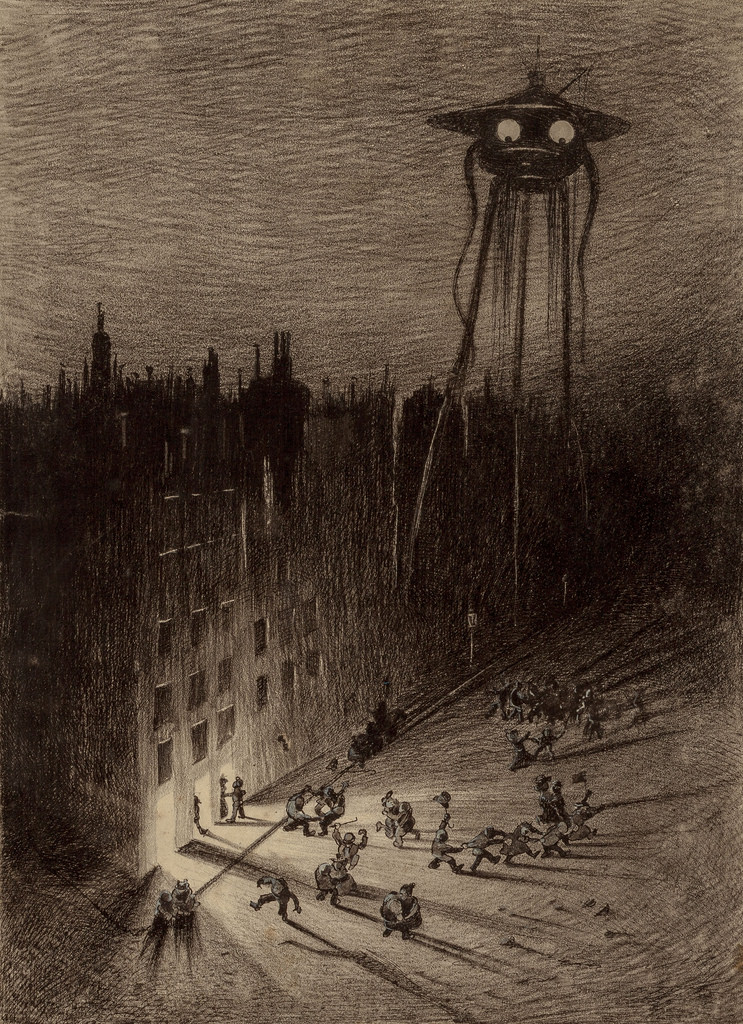 Note: An earlier version of this post appeared on our site in 2015.
If you would like to sign up for Open Culture's free email newsletter, please find it here.
If you would like to support the mission of Open Culture, consider making a donation to our site. It's hard to rely 100% on ads, and your contributions will help us continue providing the best free cultural and educational materials to learners everywhere. You can contribute through PayPal, Patreon, Venmo (@openculture) and Crypto. Thanks!
Related Content:
The Very First Illustrations of H.G. Wells' The War of the Worlds (1897)
Edward Gorey Illustrates H.G. Wells' The War of the Worlds in His Inimitable Gothic Style (1960)
The War of the Worlds: Orson Welles' 1938 Radio Drama That Petrified a Nation
Josh Jones is a writer and musician based in Durham, NC. Follow him at @jdmagness
Schule
via Open Culture https://ift.tt/lTMcFb0
April 14, 2023 at 10:25AM