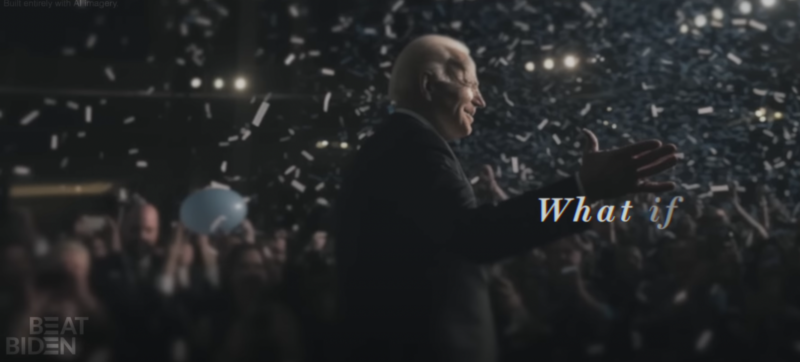 Shortly after US President Joe Biden announced his 2024 presidential run—asking Americans to re-elect him so he can "finish the job!"—the Republican National Committee (RNC) responded with a 100 percent AI-generated video. The 30-second RNC ad urged voters to "Beat Biden," or else suffer disastrous consequences that the RNC suggests would likely come to pass if Americans voted to re-elect "the weakest president we've ever had."
The RNC video opens with a fake news announcer calling the 2024 presidency for Biden. On the screen flashes a dark, AI-generated image of Biden and Vice President Kamala Harris, smiling and waving in front of a sea of American flags. From there, a series of AI-generated scenes show the faked future that the RNC imagines that this election result would bring, depicting banks closing, China invading Taiwan, San Francisco crime skyrocketing, and 80,000 "illegals" overwhelming the border.
"Who's in charge here?" the RNC's video asks. "It feels like the train is coming off the tracks." The video then concludes with an image of Biden bent over his desk, appearing worried as he faces down the RNC's slogan, "Beat Biden."
Along with sharing the video, RNC Chairwoman Ronna McDaniel issued a statement claiming Biden is "so out-of-touch" for thinking that "he deserves another four years" after "creating crisis after crisis."
"If voters let Biden 'finish the job,' inflation will continue to skyrocket, crime rates will rise, more fentanyl will cross our open borders, children will continue to be left behind, and American families will be worse off," McDaniel said, her statement in sync with the AI video's claims and designed to appeal to "Make America Great Again" (MAGA) fans.
Meanwhile, on Truth Social, Donald Trump continued his 2024 campaign by reminding his audience that "in the polls," he claims to be "beating Biden everywhere, by a lot." (Against other Republican candidates, Trump has a lead, as seen in a recent NBC News poll among Republican primary voters that weighs heavily in his favor, as well as this recent Wall Street Journal poll. However, The New York Times reported today that polls measuring Trump's chances against Biden remain highly competitive but currently show Biden narrowly ahead.)
In his official statement on Biden's re-election announcement, Trump also appeals to his MAGA fans. Like the RNC video, he criticizes Biden for doing more damage than the worst five American presidents in history put together. He warns that "banks are failing" and the "border has been abolished." He also suggests that voting out Biden would "prevent World War III from happening."
The RNC's "Beat Biden" video had nearly 27,000 views on YouTube, as of this writing. Several YouTube commenters cracked jokes about the RNC's historic use of AI image generators, with some suggesting that the RNC needed to use AI because their arguments against Biden aren't based in reality. On Twitter, "Pod Save America" co-host Dan Pfeiffer similarly criticized the video, saying that the RNC's response "suggests that they still haven't figured out an argument against Biden that makes sense to anyone outside of the MAGA media bubble."
The RNC didn't immediately respond to Ars' request to comment.
---
---
Title: GOP releases 100% AI-generated ad to fearmonger over Biden's reelection bid
URL: https://arstechnica.com/tech-policy/2023/04/gop-releases-100-ai-generated-ad-to-fearmonger-over-bidens-reelection-bid/
Source: Ars Technica – All content
Source URL: https://arstechnica.com
Date: April 25, 2023 at 10:35PM
Feedly Board(s): Technologie
---
---